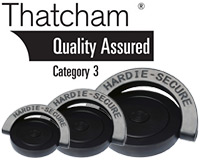 The Hardie-Secure Ground Anchor provides security for Motorcycles, Large Trailers, Caravans, Plant Equipment, Scooters, Jet Skis, Lawn Mowers, Bicycles, Garden Furniture, Power Tools, Play Equipment, etc.
The Hardie-Secure Ground Anchor comes with a single bolt fixing which means it can be fitted quickly and easily ( approx 15 mins ). With all the fixings included, all you need is an electric drill. The incredibly tight tolerances and unique curved surfacing ensure no gaps to lever against. The clever swivelling action ensures that all hammer blow action is dissipated into the ground.
Why use a Ground Anchor ? For maximum security, a simple lock is not enough. Unless your bike, motorbike, caravan, boat, trailer or motor mower is fastened down it may be possible to steal it, lock and all! The answer to this is a ground anchor. When installed in your garage, drive or car park, these provide the ideal device for securing your vehicles and other valuable outdoor equipment.
Hardie Ground Anchors have not only been designed to be strong and secure, but also extremely fast and easy to install.
The video on the left demonstrates how quick and easy it is to install the Hardie Ground Anchor.
The video is only one and half minutes long, so please take a look and see for yourself.